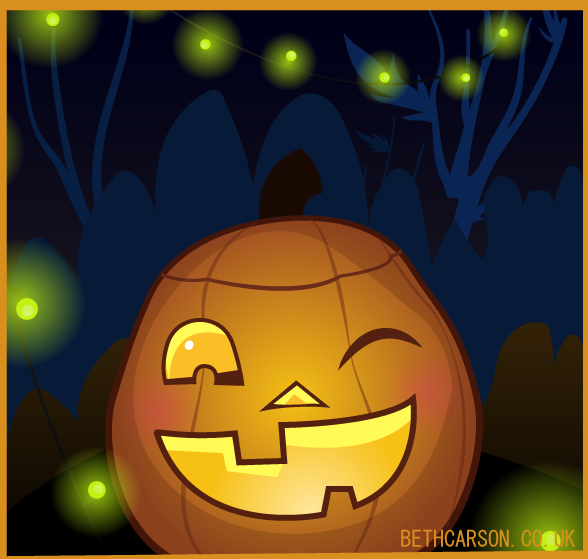 Crisp Autumn Weather & Tinned Pumpkin Shortage!
It's been a while since I've updated my blog – almost a year!  The temperature has dropped and the leaves are very brown this year.  I have been gazing with envy at the bright foliage colours in my friends & family's facebook photos.  Here in Oxfordshire the beech trees haven't even really turned yellow yet.  The poor horse chestnut trees are dry and brown, blighted by leaf blotch.  The predominant countryside colours are dark greens and browns.
Never the less, I do love the Fall and one of my favourite memories of when I was working in games and doing art every day was creating seasonal art – as much as I adored making Christmas-themed art, it's a close tie with Halloween stuff.  I haven't sat down to play with Illustrator in a while, either, so today I felt like going back to my seasonal roots and making this jack-o-lantern.
Incidentally, you may or may not know that there was a bit of a pumpkin shortage in 2015 and the sting of it is only being felt now – it used to be fairly easy to get tinned pumpkin here in the UK but this year my normal grocery stores don't carry it!  To get my pumpkin fix I was forced to buy a culinary pumpkin that is at this moment sitting on my kitchen counter, waiting for me to find a recipe.  Unfortunately I'm gluten-free now which means any pumpkiny baked goods risk turning out dodgy.  Add in the crapshoot of relying on my own home-made pumpkin puree and – well – I'm not sure what the results would be.  I might just have to make pumpkin soup!