Friday Colour Meditations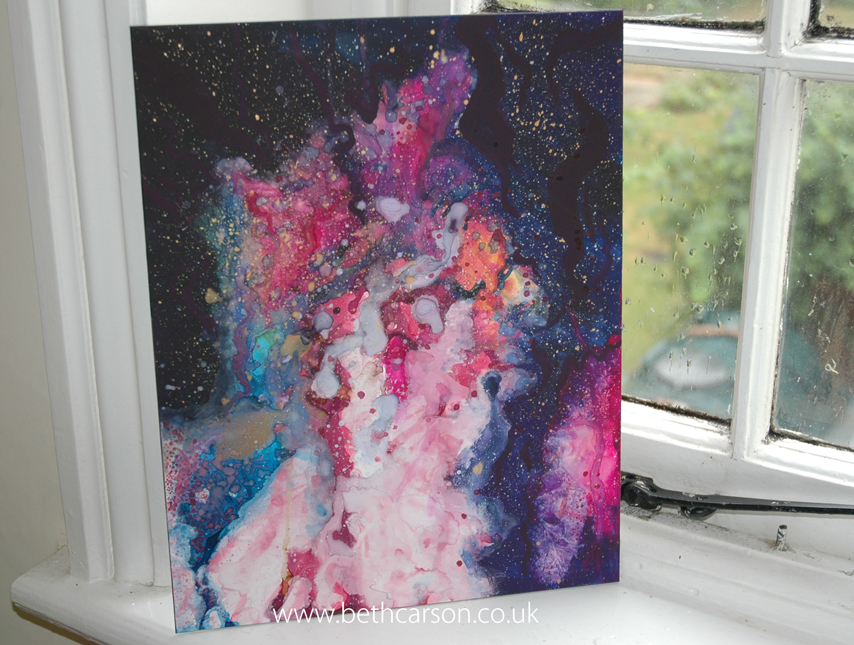 It's a rainy Friday and I'm in the studio painting today.  It's quite a cosy atmosphere, and my cat has come in to snuggle down on the sofa in here and sleep while I work.  During the years when I worked from home, he was my constant companion and a very effective micropause enforcer.  When he thinks I've spent enough time at the desk he'll happily dig his claws into my leg – a cruelty delivered with goo-goo eyes and a happy purr.   Ouch!  But, it's a reminder to get up, stretch my body, and enjoy some cuddles.
Today I've been working heavily with Dr. Ph. Martin's Radiant Concentrated Water Colors.  I bought a set of them in 1997 and they are still with me.  They pack a luminous punch and really stain the claybord.  The pigments just soak right in.  While the claybord surface is very forgiving and re-workable, when you wipe away an area you can still see the Dr. Ph. Martin's underneath.  They're great.
Another thing I really enjoy working with are metallics.  I have some imitation gold gouache from Windsor & Newton – I try to use it judiciously but I cannot resist the shine and sparkle!  This painting has splodges and splatters of the gold which catch the light beautifully.  The downside, is that photographs fail to capture its charm.  It's just one of those things you need to see in person, I guess!
I'm working on a second, bigger piece today that is coming along more slowly.  I'm trying to explore a slightly different colour palate, leaning on burnt sienna, but I have a feeling that much of what is on the bord at the moment will be reworked and hidden.